Maggie Magee & the Last Magician
Another in the line of Alex Ferguson's award winning stories for children and young adults alike. Tyneside born and bred, Alex Ferguson has spent a lifetime drawing on his personal experiences of growing up in the harsh years following the great depression of the 1930s and has an uncanny knack of combining an engrossing narrative with his wry and wit-laden humour.

MAGGIE MAGEE is a teenager who lives in a tower block in West Newcastle with the Aunt she calls Mam. The most extraordinary events begin to happen when, abandoned by her Aunt, her Grandfather turns up.

Meanwhile, in rural Northumberland, the once wealthy and prestigious Carnell family, Richard, Emily and their witch-crone mother, Mrs Victoria Carnell, living in the ruins of Asheldore Hall, conspire to send someone back through time to change history so that what happened in 1899 will NOT happen and the family's power and prestige will be restored.

Involved in this narrative and living in the old Dowerhouse of the Hall are the Temple family, Tom, a retired crafts teacher, his wife, Ellen, and their teenage children, Nikki and Stephen, innocents, who will be manipulated to serve the wicked purposes of the Carnells.

Maggie Magee is initially unaware of power she possesses that will take her and Grandfather, Michael Magee, the failing Magus, to the edge of the fatal abyss.

The threads of the conspiracy tighten and suffocate. Nothing is what it seems. Who can tell the daemons from the anghels?

An intriguing and masterfully crafted tale of mystery, suspense and witchcraft with an ending that will bring a tear to the eye but joy to the heart. One of Alex Ferguson's most outstanding works so far.
Click here to order a copy of this book from Amazon.
Putting Out The Lights
Have you ever wondered why it is always the bright child who is killed in an accident? Gifted children we need to advance our technology, to find the answers to our problems, die in incidents where others survive. In my personal experience, I mourn three such children.

Daniel Fallon believes an evil presence provokes innocent people to kill gifted children to impoverish us. A whisper of an imaginary slight in an innocent's ear grows from irritation to anger, to homicidal rage, to murder. Daniel Fallon and a young woman, Sheena Galloway, become allies in the struggle to track down this creature and destroy it.

My advice: lock the doors, settle in your chair with your favourite crisps, a bottle of strengthening Lucozade, and a stout shillelagh. Don't turn down the lights.
Click here to order a copy of this book from Amazon.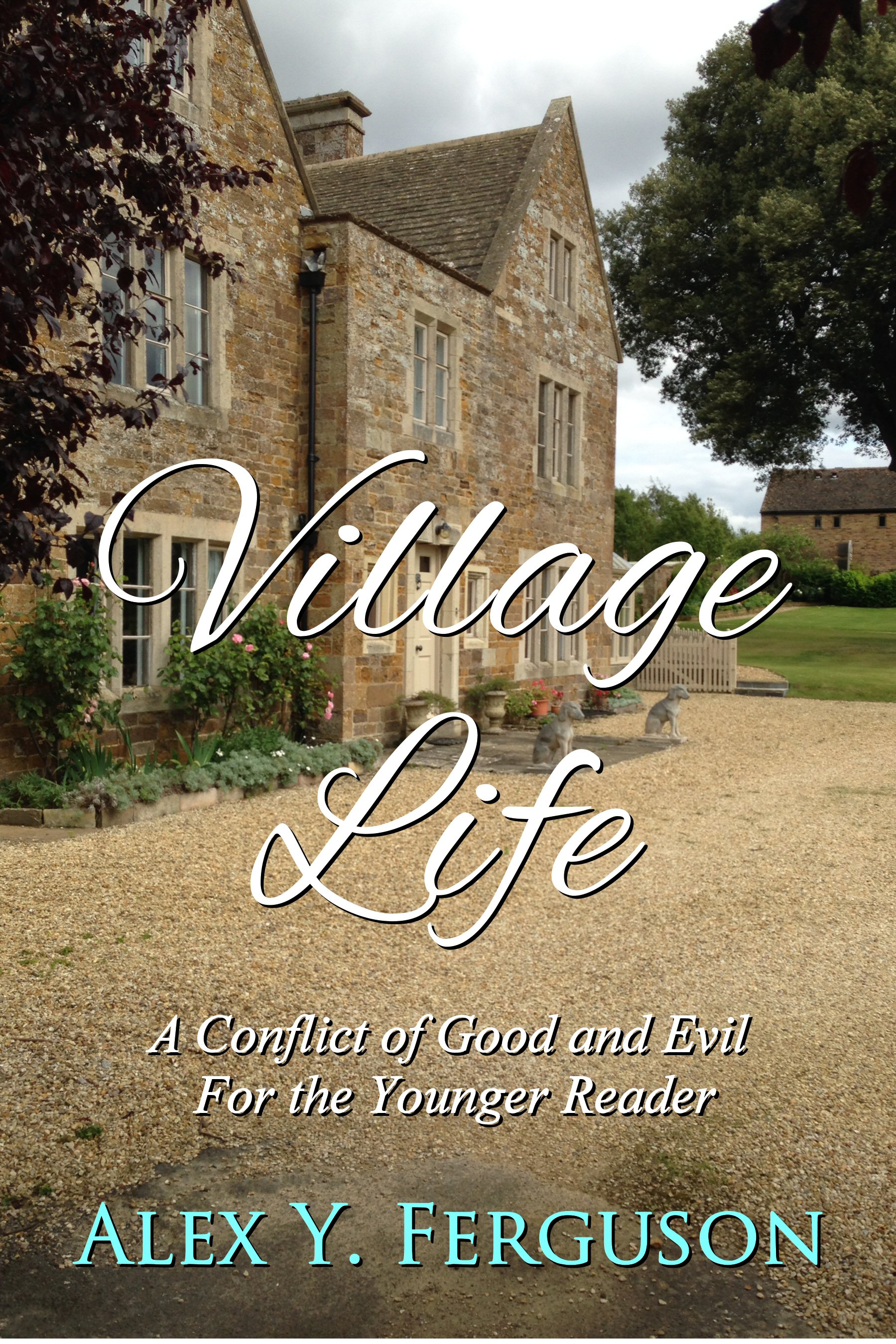 VILLAGE LIFE: A Conflict of Good and Evil
for the Younger Reader
Perhaps you know someone whose life is not ideal? Whose horizon is dark? Who feels trapped in their present situation? Meet Charlotte Henderson, schoolgirl of thirteen summers. She prefers to be called Charlie and doesn't make friends easily. She lives in London and attends an Academy she hates. Her younger brother Ralph is a spoilt brat. Her father Michael Henderson, a solicitor, hates his work and brings that unhappiness home. Eileen Henderson, Charlie's mother, hates the damp, cramped house they live in. Her parents quarrel constantly.

Then a miracle occurs. Michael is offered a new job in Leicester. A cottage in a picture box Leicestershire village is for sale. The Crooked Cottage in Fenton Parva is a wonderful place to live. Charlie is happier than she ever thought to be. Her father is happy in his new position. Her mother loves the cottage and village life. Ralph is as normal. The Hendersons' life is transformed.

Then begins a series of events that leads to a terrifying revelation. Do not read this book in an old dark house alone at night.
Click here to order a copy of this book from Amazon.
THE JETHART HOUSE
In the Border town of Jedburgh stands the Queen's House. In 15** Mary, Queen of Scots came to hold an Assize, but was driven from the Spread Eagle tavern to the House by a malicious fire. Did someone intend to murder the Queen? Mary rode to Hermitage where her presumed lover, James Hepburn, Earl Bothwell lived, but returned the same day. Why? I was intrigued. Was she running into his arms or running away? From the bench where I sat in the House garden I borrowed a brother & sister from a school group and the story began.

When Detective Constable Susan Duffy views a CCTV tape from a Newcastle charity shop she is shocked, but no one at her chauvinistic station can be bothered. Susan's nickname is Duff Job and the charity shop burglary is typical of the duff jobs she is assigned. But when two teenagers disappear after visiting the House, Susan pursues the psychopathic villain who moves through time to kill everyone in his path who would reveal the truth of an age-old mystery. In my ending is my beginning, as Mary Stuart wrote. In the ending of this story is the beginning of something extraordinary.
Click here to order a copy of this book from Amazon.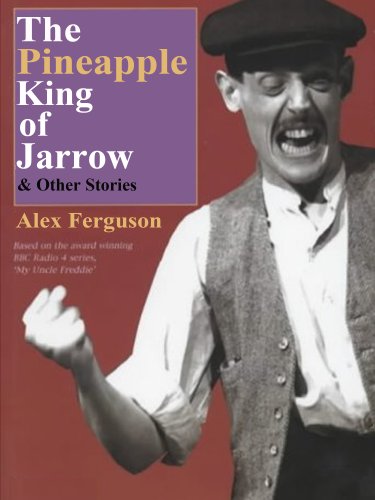 THE PINEAPPLE KING OF JARROW
These are the first five stories of the transmogrified childhood of the writer, Alex Ferguson, who was born in Jarrow on Tyne in good time for the Great Depression and who was fortunate enough to have an imaginative Uncle Freddie released from employment most generously by Mr. Palmer, the proprietor of Palmers' Shipyard, to share that childhood.

The boy, born into what might be described as deprived circumstances was, in fact, as rich as Croesus because he lived among people who loved him.
Given the least encouragement Alex Ferguson would gladly tell you more stories of Uncle Freddie & Lecky Fergie.

What's more if you don't laugh and cry at this book the writer would gladly return your money if he hadn't already spent it on Sherbet Lemons and American Crème Soda to keep up his strength..

MY UNCLE FREDDIE ran for six years on Radio Four and won the Writers Guild Award for Comedy & Light Entertainment in 1997.

The MANCHESTER GUARDIAN said "In all his work there is a sense of joyous dreaming from which one awakes completely satisfied."
Click here to order a copy of this book from Amazon.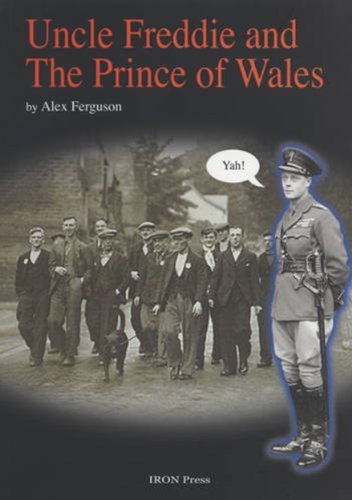 MY UNCLE FREDDIE & THE PRINCE OF WALES
On a fishing trip to feed the Fergies and Deans, Lecky and his Uncle Freddie hook out of the toxic Tyne a very dubious character. To reduce the level of moisture in his garments the kindly pair takes the bedraggled wretch home to Hurworth Place where astonishing disclosures are made.

Not the least that the visitor, discarding his be-weeded plus fours to dry on Bella's oven door reveals thin white legs and displays underwear of crepe de chine: an unusual combination in Jarrow at the time.

Furthermore our elegant intruder possesses an amber cigarette holder: a very disturbing circumstance. In the privacy of that humble kitchen the mysterious stranger unfolds to Lecky and Freddie his startling predicament which may well disturb the equanimity of our nation and upturn the very foundation on which our society rests. Thrones may tumble, bishops & laity left aghast and politicians rendered speechless by the awesome implications of the dilemma that haunts this flotsam of the Tyne, this jetsam of the tide, the mysterious stranger in the crepe de chine underwear.

When Bella and Mary return home the three of them, Lecky, Freddie and their elegant catch are turned out of doors toot sweet. The ladies are agreed. Something fishy is going on here.

Or, as the Stop Press read in the Jarrow Express:

JARROW GAZETTE & SHIPPING CHRONICLE:
STOP PRESS:
THE PRINCE OF WALES, EMOTIONALLY CONFUSED, MAKES UNSCHEDULED VISIT TO JARROW & LEAVES EVEN MORE EMOTIONALLY CONFUSED.

Another north-east masterpiece from Alex Ferguson following the triumphs of The Pineapple King of Jarrow and The Jethart House.
Click here to order a copy of this book from Amazon.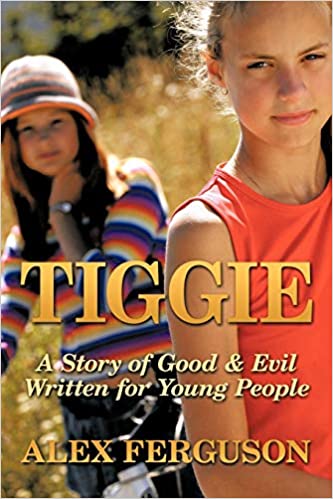 Tiggie: A Story of Good & Evil
Written For Young People
Are you two scared of spooky houses are the opening words of TIGGIE. Are you, dear reader, scared of spooky houses? Don't worry! You're safe enough, in your favourite chair with a copy of TIGGIE in trembling hands, but when the thirteen-year-old friends, London girls, Lucy Barrett and Helen Bartlett, enter an old house, helping an antiques dealer, Patsy, collect her purchases, there is an evil presence awaiting them. When Lucy picks up an old copy of Beatrix Potter's MRS. TIGGYWIN
Click here to order a copy of this book from Amazon.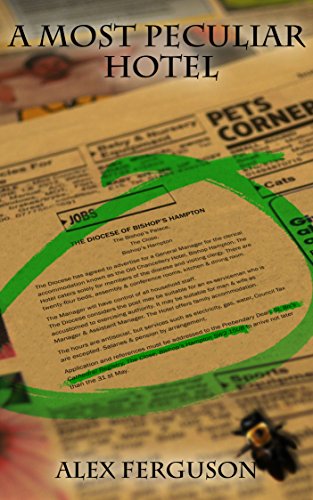 A Most Peculiar Hotel
When Sergeant John Lancaster retired from the Army, he and his family, his wife Sandra, his daughters, Samantha, Jacqueline and baby Rose looked forward to a more regular lifestyle that they might call home.
A certain advertisement caught Sandra's eye. It was for the management of a clerical hotel in a Cathedral Close in an ancient country town.
What could be more peaceful, less stressful than managing an hotel for clerical gentlemen, blessed with family accommodation? John Lancaster applied and was the successful candidate.
Unfortunately, all was not as it appeared to be. One must not never mistake the manifestation for the reality.
Click here to order a copy of this book from Amazon.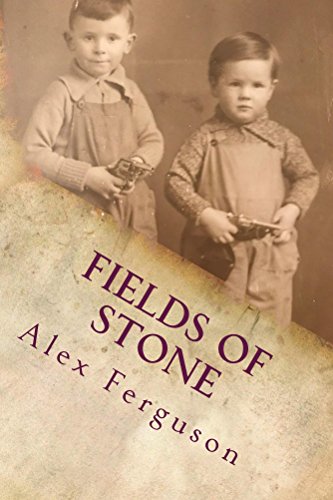 Fields of Stone
This is the story of an unfinished quest. There is no crusading knight, sweating within a cast-iron carapace, grasping a monstrous sword and shield.
There is no humble steward waiting to hoist his burdensome master by pulley onto the back of a horse that struggles to bear the burden of all this ironmongery.
None of the elements of this quest appear to be linked in any fashion, estate agents, vicar, doctor, investment counsellors, prostitute, medium, bank manager, children, fashion model, chums of royalty, petty thieves, police, a nineteenth century philanthropist and even a cat called Glaze. A diabolical net is slowly, but surely drawing all these disparate people together towards unspeakable tragedy.
It all begins with a professional soldier who is carrying too many metal fragments to be of service. He bears within him too, a heavy burden he cannot lay down. When he regains his feet, he is told the Army has no further use for him.
However, they will assist him into civilian life by paying for a suitable course. Samuel Ericksen decides as his world has gone to pot, he might as well become a potter. Ironically, Sam discovers a unique talent as a potter.
Sam Ericksen and his fellow travellers walk the fields of stone to the house on the hill where the quest will be completed.
Click here to order a copy of this book from Amazon.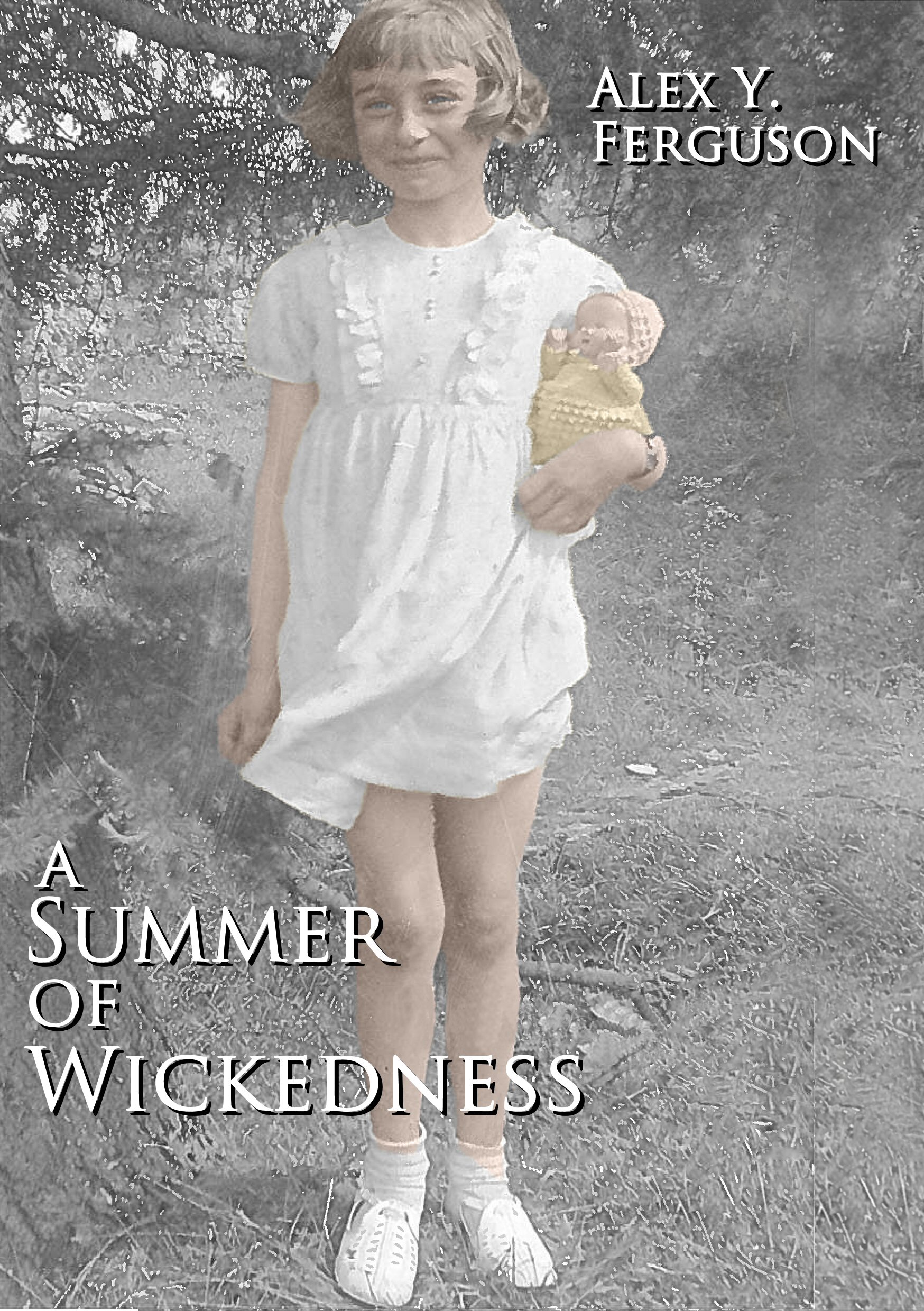 A Summer of Wickedness
Inspector Davison is haunted by the suspicion that too many Duncaster girls are dying. A senior officer has closed enquiries into seemingly unrelated deaths. John Richards, a bereaved father, is constantly blocked, until he meets Harry Whitehouse, a former police officer who has also lost his daughter.

Nothing disturbs the complacency of the quiet Midland town of Duncaster in the Fifties, but there is a supreme evil growing in the shadows.

A young teacher, Daniel Leven, begins his third year of teaching in a Duncaster school staffed by older women and a domineering Headmaster, Mr. Deacon. From Daniel's new class, Mr. Deacon chooses the Head Boy and Girl. Daniel begins to be concerned when the girl, Sheila Morgan, begins returning from the Headmaster's errands in distress.

Slowly, seemingly unrelated threads draw together the innocent and the wicked in this tale of murder and depravity.
Click here to order a copy of this book from Amazon.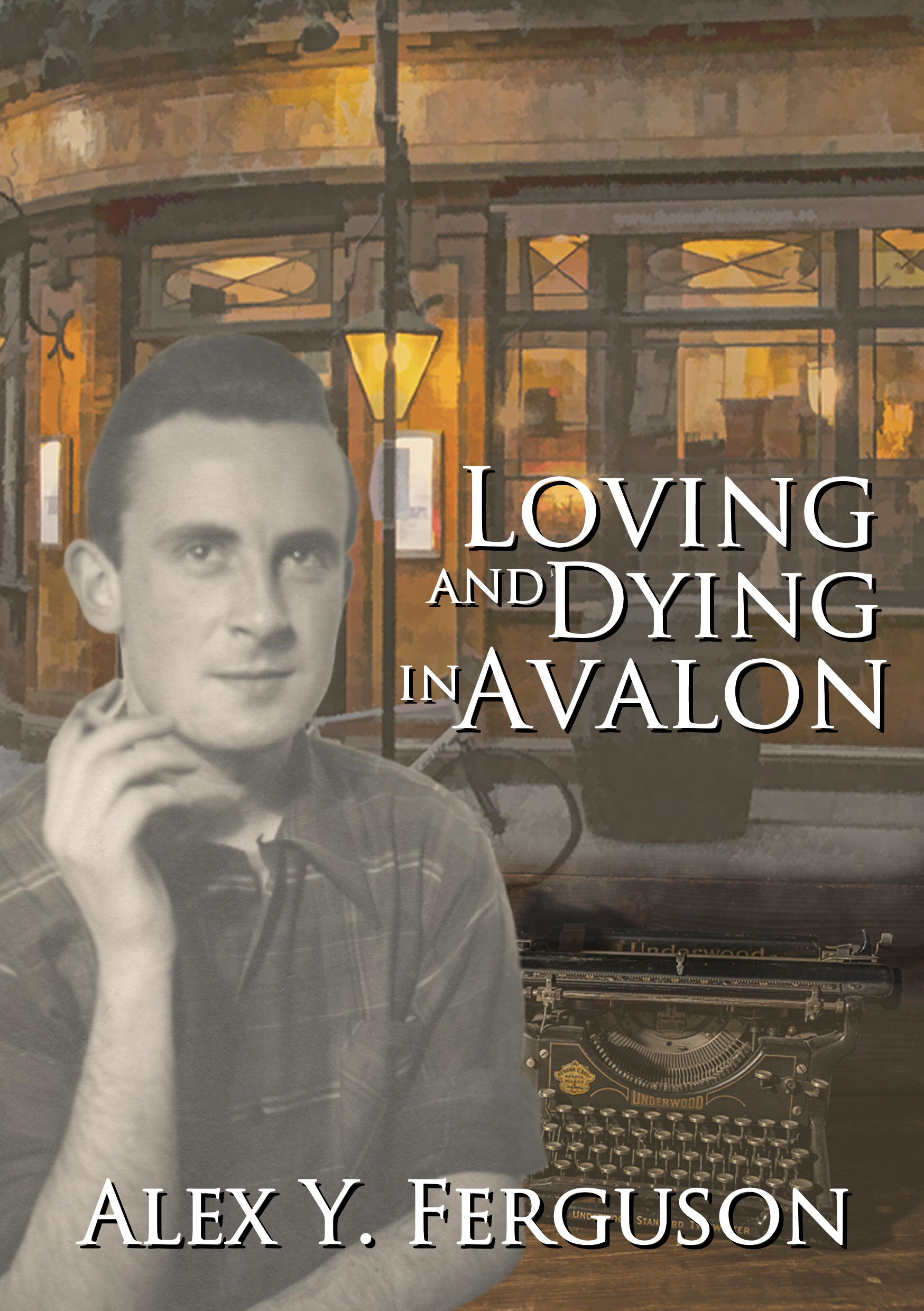 Loving and Dying in Avalon
Two young men, close friends Nicholas Hope, a painter of talent, and Timothy Sharp, a budding writer, are living in Avalon, a city in the South-West of England. Sworn to live free, they take nothing from the State, but support themselves by bar and restaurant jobs, the odd commission, and 'borrowing' from friends.
They survive on cigarettes and rum scrumpies. This story relates truly what happened to Nick and Timmy in that fateful summer of 1950.
Click here to order a copy of this book from Amazon.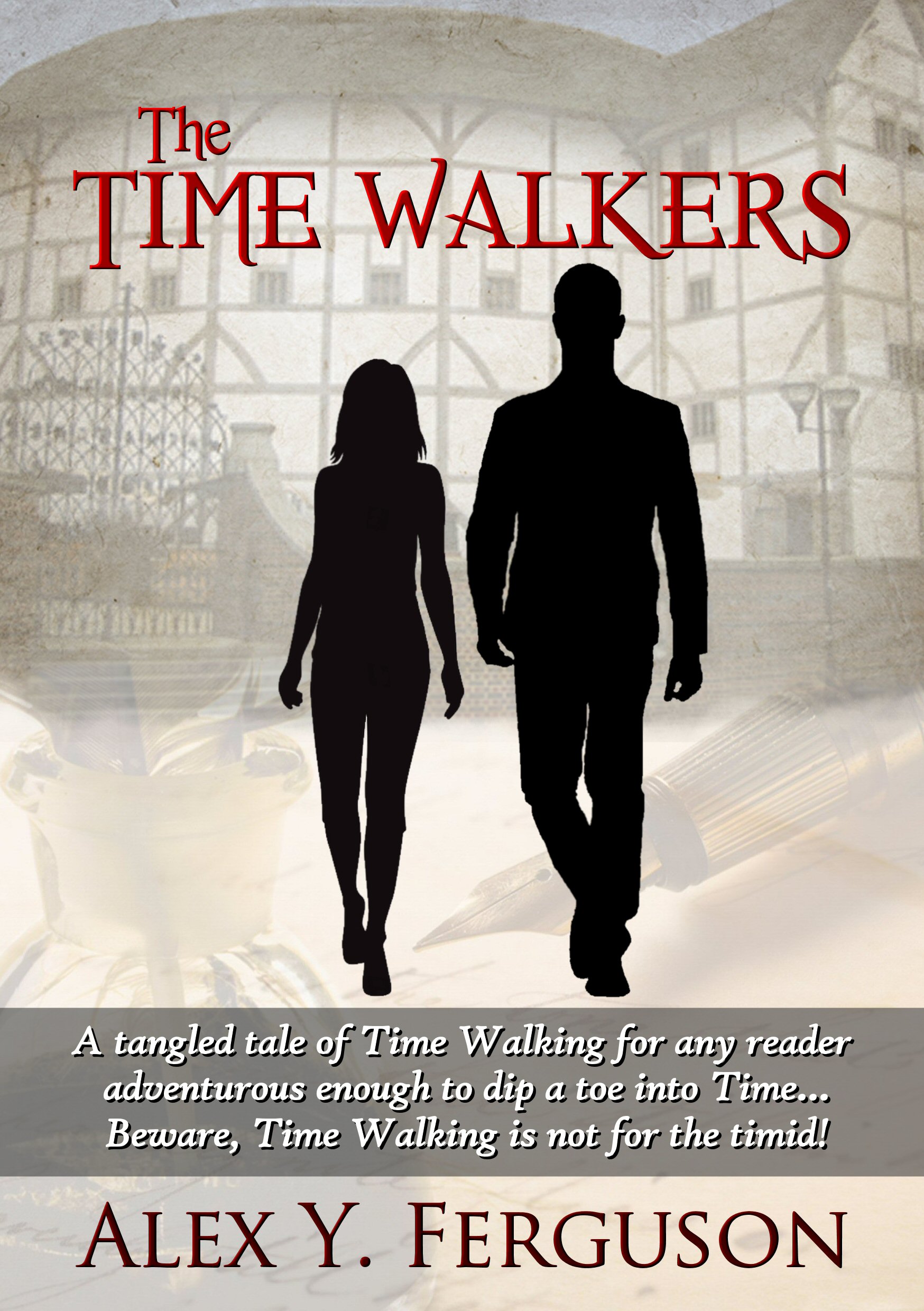 The Time Walkers
The Brook Randall School for Girls of Military Parentage is a boarding school of good reputation.For teenagers Melanie Mackenzie, Joan Vere d'Urquart, and Laura MaCallaman, it is a tranquil and ordered environment that allows them to overcome the tragedies of their pasts.
But when the famous playwright Christopher Marlowe arrives at the school to give a lecture on historical time travel, bringing with him an air of mystery and adventure, the delicate equilibrium of Randall's is shattered.
Melanie, it turns out, is a Time Walker: someone who can break the barriers of time and send people back into the past. She is just what Marlowe has been looking for – someone who can return him to his own time and allow him to escape the religious fanatics who have hunted him since the Elizabethan era.
But as events unfold, both Christopher Marlowe and the girls find themselves embroiled in a historical time travel mystery spanning the 1600s to the closing days of the Napoleonic Wars.
Who is the young Ensign tasked with defending a river crossing against an entire army – and, more importantly, who are the mysterious men in pink asking questions about a long-dead playwright?
Heartfelt and original, this is one action and adventure story you will not want to miss!
Christopher Marlowe
26 February 1564 – 30 May 1593
Or so they say...
Click here to order a copy of this book from Amazon.
Now & Then
If you are taking the air with the love of your life and you see a clapped-out motorcycle and sidecar approaching, seek shelter immediately.
Do not become entangled with the young man and girl riding the antique contraption. They are the most dangerous people I have ever met. They never intend to do harm, but any contact will disrupt your life forever.
The handsome man with the midnight hair and beard is Christopher Marlowe, the genius who wrote Shakespeare?s plays. He is sometimes known as Kit Marlon. The girl is his adopted daughter, Hannah Cato.
He has escaped through Time from enemies who wish to cut him into four pieces. The only true Time Walker I know, Kit has no understanding of the twenty-first century and is frightened of gas stoves, immersion heaters, and computers.
He cannot open sardine tins, loves Hoola Hoops, and is the master of blank verse. It is safe to read this wonderful book, but do not make Kit Marlowe?s acquaintance. Your life will never be the same again.
Click here to order a copy of this book from Amazon.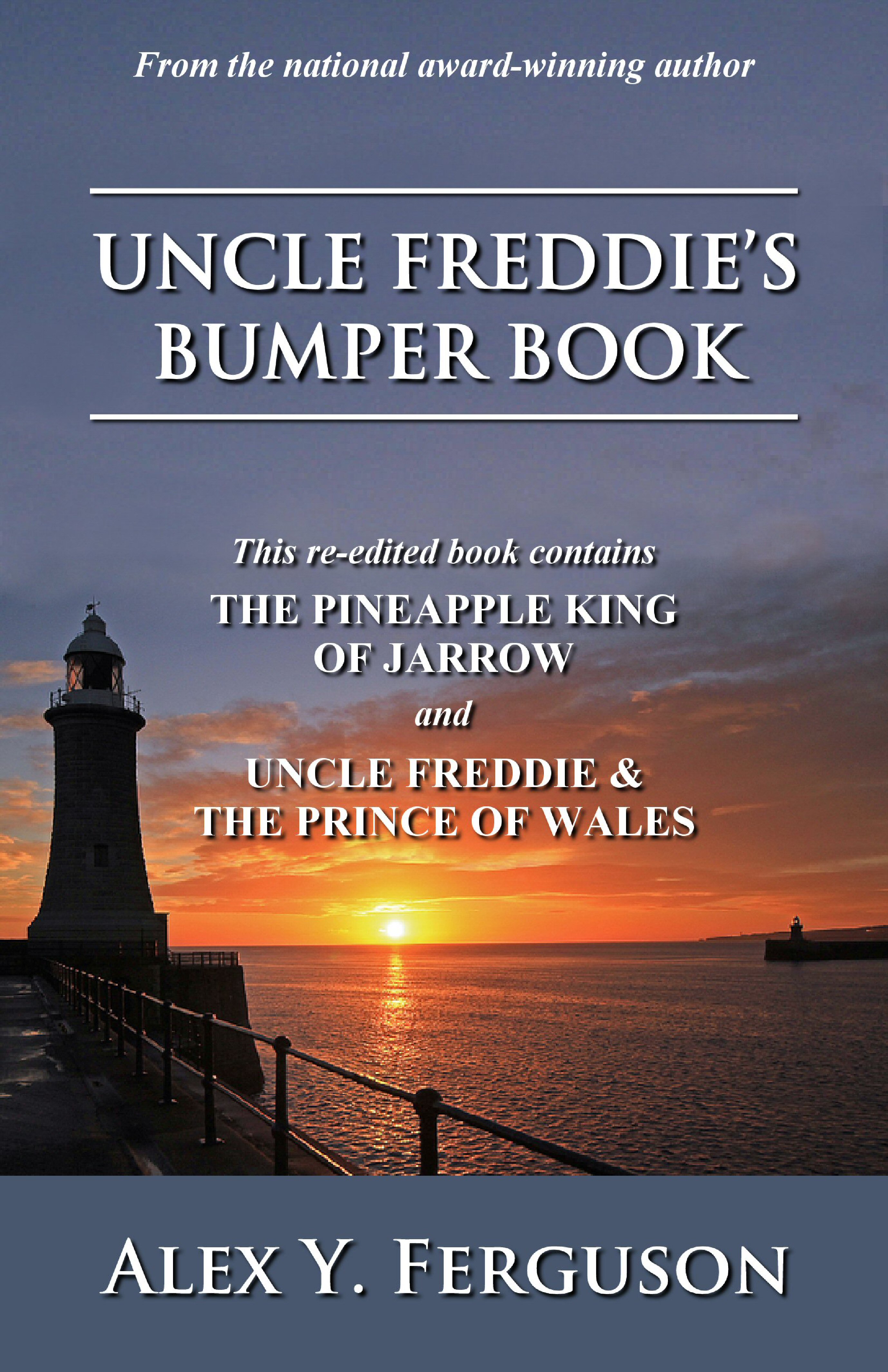 Uncle Freddie's Bumper Book
When I was a squalling bairn, born in Jarrow-on-Tyne in time for the Great Depression, I lived with Our Mam and Our Dad in three rooms upstairs at 1, Hurworth Place.
My parents' ambition was Respectability. We had a kitchen, a sitting room referred to as the Room, a bedroom, a cupboard on the landing and a bookshelf. I slept in the Room. Our Dad, lacking a leg from the Great War, worked the nightshift at the C.W.S. bakery and slept in the bedroom by day and Our Mam slept there at night.
My sisters were in domestic service at Panhacklety House beyond Carlisle in Farthest Galloway and rarely came home. Downstairs at number 3, in two rooms and a scullery, lived my best-ever friends, Auntie Bella and Uncle Freddie, an unemployed shipwright. Palmer's Shipyard was closed forever and Jarrow was dead or dying.
The sisters, Our Mam and Auntie Bella washed, ironed and delivered other people's clothes and scrubbed their floors. Granny and Grandad Fergie would come to stay and slept in a box bed in the kitchen. I loved them both most dearly. Granny was a wise woman who read our future in the tea leaves and had a magic potato she used when darning called Gustaf the Third Marquis of Metz.
She was born in a town called Sarragamiens in Lorraine and her father worked in the pottery. When the Germans invaded in 1870, the family became refugees.Grandad had a wonderful singing voice and played the violin. He sang old Irish songs, heartbreaking melodies.
He sang in the street outside the Ben Lomond. As a child, what I didn't know was that my Grandfather was prone to alcoholic binges on a mixture of red wine and methylated spirits called red biddy. What I don't understand is why we were happy when we had so little.
Click here to order a copy of this book from Amazon.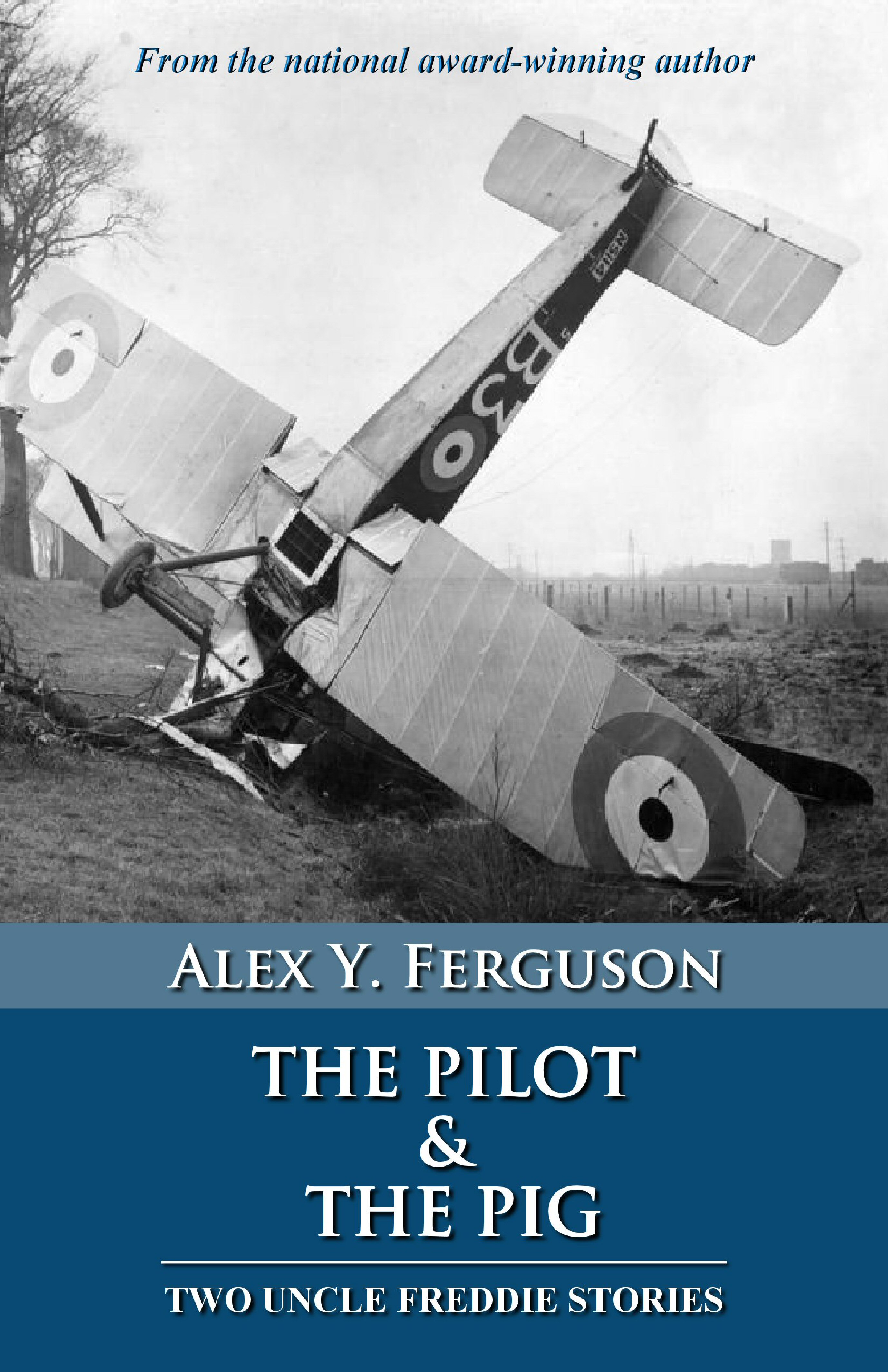 The Pilot & The Pig: Two Uncle Freddie Stories
You will, dear reader, enjoy these stories, largely due to my Uncle Freddie who changed my view of the world and set me free. Thanks to Freddie Dean, who saved the Titanic the First Time, I know not any distinction between truth and fantasy. There are those who claim my stories are made up and never happened, which shocks me beyond belief. Shocked and horrified, I stand accused of persiflage.
In my own defence, may I ask you to consider the world into which I was thrust on a cold December morning. Apart from a loving family there was nothing; no radio, no television, no telephone, no storyteller as one might find in an Indian village. The streets were bare of advertising, but for a Cadbury poster pretending to pour a pint and a half of milk into every bar. The town was dying, the skies were grey, the rain smelt of soot and the fall of a loose roof slate destroying a Granny's hat the only excitement.
Sitting among my restless classmates, I listened to the recitation of the Ten Commandments and had a Eureka moment. I didn't cry out, but asked the teacher to repeat the Commandments. She was pleased at my diligence and did so. I found I was correct. There was no Commandment against lying. You had to speak up in Court, but that seemed most reasonable. That Archimedean discovery changed my life. I had my Uncle Freddie to bewitch me with stories and a clear conscience. A good story is always true. I rest my case.

Click here to order a copy of this book from Amazon.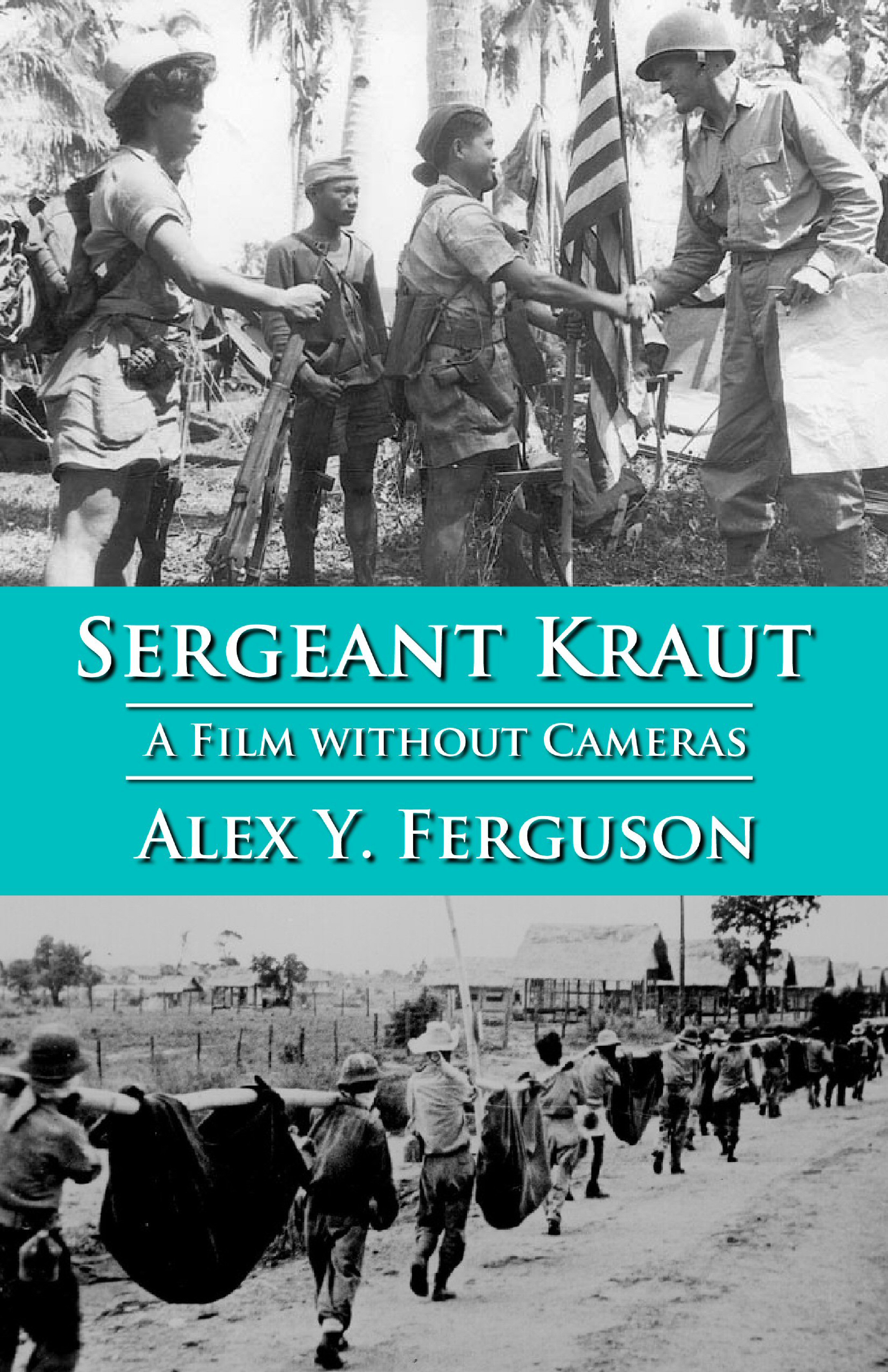 SERGEANT KRAUT: A Film Without Cameras
My friend Craig Lines, who works in television in Manila, suggested I write a film about a Filipino myth that an American soldier in 1942 stole the Philippines Treasury. Alas, the film venture came to naught; the normal destination of our best ideas. But I was already engrossed in the real story.
The United States acquired the Philippines following upon the American-Filipino war of 1899. The islands became the American equivalent of the British Raj. Only in 1946 did the islands receive independence.
The more I read about how the American Army in the Philippines behaved, the angrier I became. When the Japanese invaded on the morning of 8th December 1941 the complacency and inefficiency were exposed. Orders couldn't be given directly to Filipino troops as no Officer or NCO spoke Tagalog or any of the island dialects. Untrained Filipino troops, equipped with obsolete weapons, were blamed for the initial failure. On Clark Field the planes for the defence of the Philippines were arranged in neat rows for the Japanese Imperial Air Fleet to destroy. The campaign was a complete disaster despite the outstanding bravery of American and Filipino infantry. McArthur and family fled, leaving a starving Army besieged in Bataan to suffer the cruellest treatment and torture from their conquerors when their commanders surrendered.
The Filipinos did not surrender. This book, based on actual events, tells what happened in the islands. The story begins in Germany.
Click here to order a copy of this book from Amazon.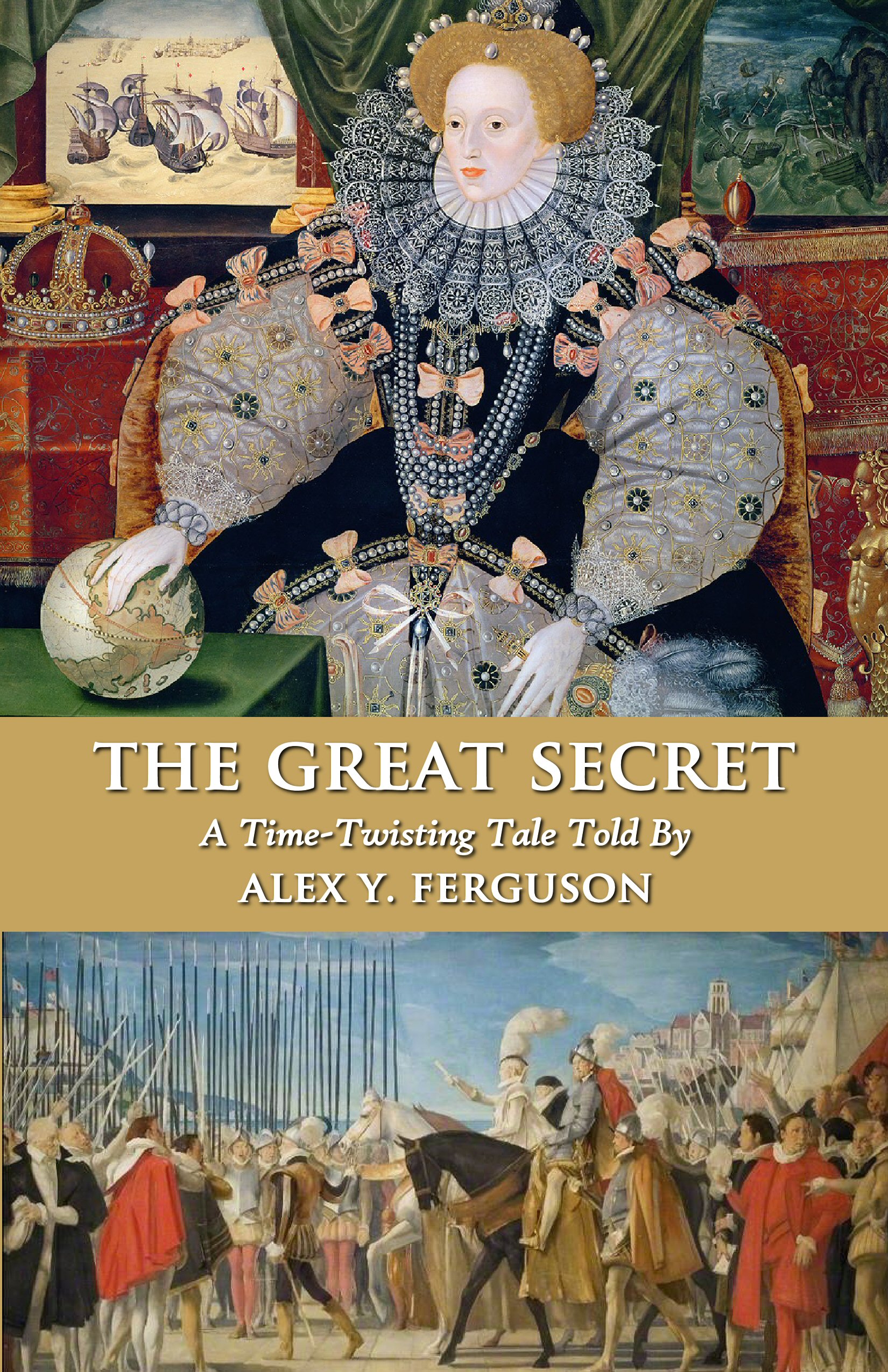 The Great Secret: A Time-Twisting Tale
The contented lives of time walkers, Christopher 'Kit' Marlowe and his adopted daughter Hannah Cato, are suddenly disrupted as the Virgin Queen, Elizabeth Regina, has need of our national playwright to undertake a horrendous mission. Which he would refuse if offered any choice in the matter. However, Lord Walsingham, spymaster supreme, has solved the problem. Kit will undertake the mission as Hannah is held hostage.
Unfortunately, the sorcery was mishandled and neither has any memory of the other. Walsingham decides on a simpler strategy. Kit agrees to undertake the mission or his body will be separated into a number of pieces. There are others interested in the outcome: the Jesuit priest William Garnet conspiring to return Protestant England to Holy Mother Church. And the Inquisition.
It is fifteen eighty-eight. The Spanish Armada is in sight of the Channel. The Duke of Parma has fifteen thousand troops in the Spanish Netherlands preparing to invade England. Will Kit Marlowe defeat the perfidious Jesuit, William Garnet, and the treacherous Lord Walsingham? Will he be re-united with Hannah Cato? Will that ancient motorcycle combo, Apollo's Chariot, lead the charge?
Recite after me:
I have fought for Queen & Faith as a valiant man and true. I have only done my duty as a man is bound to do . . .
Click here to order a copy of this book from Amazon.